Students learn firsthand about aquaponics at Glidden-Ralston

Glidden, Iowa -- Glidden-Ralston Agriscience teacher and FFA Advisor Gary Clark thought exposure to nontraditional ways of agriculture would be a good learning experience for his students. Now multiple classes are learning firsthand about aquaponics.

The project started at the beginning of the 2013/14 school year in the greenhouse then moved inside as the weather got colder. The single 150 gallon tank which houses the aquaponics project is home to many hybrid bluegill fish and the project's first plant crop.

Clark says members of the FFA...MORE ...ooo AQUAPONICS DIGEST ooo...

Hopefully 20 million fed through aquaponics:RCHS selected as first school in state to take part in innovative program

Published: 4:18 PM, 01/17/2014

Last updated: 4:19 PM, 01/17/2014 Author: John Sprague Source: The Herald-News There is something fishy starting at Rhea County High School. And the company providing the support hopes to feed 20 million people by 2020.

The Rhea County School Board approved starting a new program at the high school supported by HATponics, a Chattanooga-based company that is working on a hydroponic system that not only grows plants, but also supports fish and the crops could feed other farm animals.

HATponics CEO Ryan Cox addressed the...MORE ...ooo AQUAPONICS DIGEST ooo...

Wyoming school project will turn fish feces into plant food

Mills Elementary Aquaponics Mills Elementary Aquaponics

Alan Rogers | Star-Tribune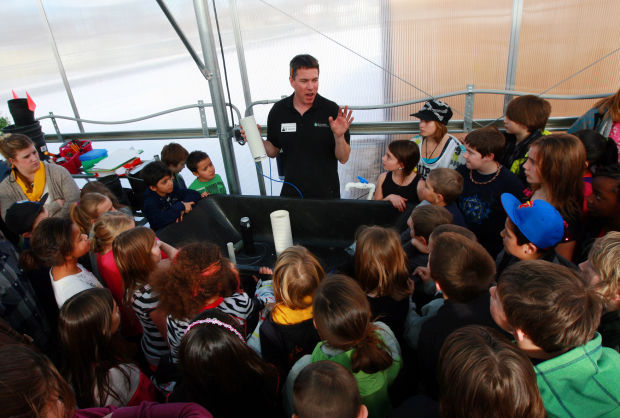 JD Sawyer of Colorado Aquaponics, center, talks to Mills Elementary School students about their school's new aquaponics system Friday in Mills. Aquaponics is a combination of hydroponics, the cultivation of plants without soil, and aquaculture, or fish farming. A continuous cycle pumps dirty water containing fish waste provides nutrients for the plants, then returns clean water to the fish. At Mills Elementary, students will use the system as a learning aid and hope to also produce fresh food to sell.
January 17, 2014 7:00 pm • By LAURA HANCOCK Star-Tribune staff writer
MILLS –Students at Mills Elementary School are talking a lot about poop these days without bursting into a thousand giggles.
Poop, specifically fish poop, has taken on an air of seriousness, as students at Mills Elementary, with assistance from students at the alternative Star Lane Center in Casper, are creating an aquaponics system to grow plants inside the school's four-year-old greenhouse. They plan to sell the food and fish bounties to the community.
On Friday, students gathered...MORE
...ooo AQUAPONICS DIGEST ooo...
Aquaponics Farming Course
Added by JD Sawyer
Aquaponics Farming Course
Time: February 14, 2014 at 8am to February 23, 2014 at 5pm
Type Group: The GrowHaus
Street: 4751 York St
City/Town: Denver
There is an urgency to shift how we live in the world. Growing and sharing healthy, clean food while conserving resources is one way many people are choosing to adjust to the changeover. In direct response, aquaponics, the raising of fish and plants in a recirculating system, is currently at the forefront of sustainable agriculture practice. Ranging from small farms to large commercial-scale operations, aquaponic farm businesses are increasing in number globally each year.
The GrowHaus of Denver is hosting....MORE
...ooo AQUAPONICS DIGEST ooo...
Farm raises aquaponics crops
BY DAVID NICHOLSON | DAILY PRESS (NEWPORT NEWS, VA.)
John Morris nets tilapia that will be sold at his farm in Isle of Wight County, Virginia. Morris grows produce hydroponically using water from fish he raises as fertilizer for the produce. (Joe Fudger/Newport News Daily Press/MCT)
Using fish to make fertilizer isn't a new concept. But John Morris has modernized the process through a sophisticated farming operation called aquaponics.
Last February, Morris turned his eight-acre...MORE
...ooo AQUAPONICS DIGEST ooo...
Greengro Technologies Breaks Ground on Second BP Gardens Greenhouse Project
ANAHEIM, CA--(Marketwired - Jan 16, 2014) - Greengro Technologies (PINKSHEETS: GRNH) has announced today that they have broken ground on the second BP Gardens greenhouse project in Lincoln, California (5585 Garden Bar Rd., Lincoln, CA 95648). This project marks the second in an aggressive plan to operate five such facilities by 2015.
BP Gardens Lincoln is a joint....MORE
...ooo AQUAPONICS DIGEST ooo...
Upcoming Aquaponics Classes
You are here: Home > Upcoming Aquaponics Classes
Have you visited The Plant for a tour and want to learn more about aquaponic farming? Are you interested in setting up your own system for home or commerical use? Check out these upcoming workshops on aquaponics, and visit our Classes and Workshops page for more details!
Aquaponics 101 with The Plant
Location: Rebuilding Exchange, Chicago, IL....MORE
...ooo AQUAPONICS DIGEST ooo...
Be sure to receive each and every Issue of the Digest. Why not Subscribe today. Its free