Riverbend's aquaponics project in Gladwyne to be a model of sustainable farming
Given its location on a steep, densely wooded hillside at the very edge of Lower Merion Township, Riverbend Environmental Education Center's 30-acre preserve in Gladwyne is not the most likely place to picture a modern-day farming operation.
But that is exactly what...MORE
...oooOooo...
Why Aquaponics Could be Urban Farming's Ace in the Hole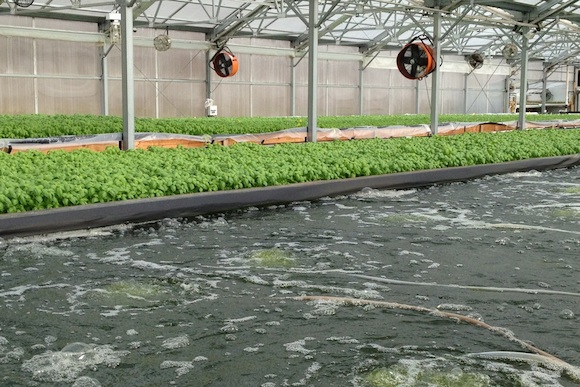 PHILADELPHIA
Ben and Rebecca Frimmer take the concept of "farm to table" literally. Before moving to their current home in the Wissahickon neighborhood, the organic farming enthusiasts set up a hydroponic growing system in their apartment, and then, with a few ornamental koi fish, began to experiment with aquaponics.
"Once our entire....MORE
...oooOooo...
AQUAPONICS - FARMING WITH A FISHING ROD
LivinGreen's pioneering Israeli method combines aquaculture and hydroponics to create better farming for a hungry planet.
Chinese proverb: Give a man a fish, and you feed him for the day. Give him a fishing rod and feed him for life.
New Israeli proverb: Give a man a fishing rod and a hydroponics farm, and you give him food and sustainable income for life.
The new Israeli proverb could be summed up in....MORE
...oooOooo...
Happy Dancing Turtle receives grant to study aquaponics, hydroponics
By Travis Grimler
Staff Writer
Happy Dancing Turtle (HDT) recently received a grant for expanding hydroponic and aquaponic production in central Minnesota.
In hydroponic and aquaponic....MORE
...oooOooo...
Aquaponics at Greenacres
Posted on December 2, 2013
This year the Garden Education department, along with members of Starfire, has been constructing an aquaponic gardening system. Aquaponics is a method of growing fish and plants in a symbiotic system that marries aquaculture (fish farming) and hydroponics (growing plants without soil).
In Greenacres' system, water from....MORE
...oooOooo...
American Samoa aquaponics project proves successful
An aquaponics farming project in American Samoa has proved such a success there are hopes to start other projects in the territory.
The Centre for Tropical and Subtropical Aquaculture in Hawaii and the University of Hawaii are joint partners in the project.
The farm in Taputimu....MORE
...oooOooo...
An all-in-one aquatic ecosystem that fits on your desk
In our all-too-sterile modern office environments, sometimes the only other living things (besides your coworkers) are the often neglected houseplants that take up the odd corner or windowsill.
And in many cubicles....MORE
Be certain you keep up to date with the latest HEALTH issues by SUBSCRIBING TODAY.