New Yorkers bring fish farms to urban jungle
April 27, 2012
by Sebastian Smith
Enlarge
Children arrive at a community center in the south Bronx for a session with the Society for Aquaponic Values and Education (SAVE) on April 19. SAVE teaches aquaponics to about 80 children each week in this socio-economically disadvantaged neighborhood.
...oooOooo...
The Backyard Farmer video update- Aquaponics at the completion stage of construction

Added by Russell Hopper on April 23, 2012 at 10:09pm

This weeks video I finished the construction of my aquaponics system. The entire project is cycling. The fish tank, two sum...
...oooOooo...
Great Salad Recipes
Warmer temps bring to mind lighter meals filled with fresh greens. Build a better salad that's far from boring, learn why greens are good for you, check out a few tangy and delicious coleslaw recipes, and discover the best method of preserving your vegetables. More...
...oooOooo...
Urban aquaponics flourishing on South Side
by Elizabeth Bunn
April 25, 2012

Concern over food supply is growing. Pending permits from the city of Chicago, startups 312Aquaponics and Greens & Gills are ready to step up and help. The urban farming companies on Chicago's South Side plan to supply their microgreens to local restaurants, grocery stores and farmers markets.
...oooOooo...
BSU Project Proposes Anderson Improvements


InsideINdianaBusiness.com Report
A Ball State University student project is offering suggestions to revitalize the Southwest Neighborhood of Anderson. The proposal estimates a nearly $90 million price tag for the entire
effort, which includes turning a vacated General Motors Co. (NYSE: GM) facility into an aquaponics farm and food distribution center. The student analysis suggests the project could create nearly 6,000 jobs.
...oooOooo...
Aquaponics: FREE Webinar; Upcoming Training at the Grange
April 23, 2012
by upstatenypermaculturenetwork
Dear Friends,
Wether you are a beginner, a backyard hobbyist, a homesteader, or a skilled professional wanting to grow more food sustainably and for less work,
Aquaponics has something to offer.
...oooOooo...
Colorado Aquaponics Co. Rises from Ashes of Economic Downturn to Help Increase Access to Local Food
By Kari Keller / April 24, 2012 6:16 pm
EmailShare
The onset of the economic downturn may have proven to be a blessing in disguise for one of Denver, Colorado's poorest inner city neighborhoods. Like so many other accomplished professionals, JD Sawyer was laid off from his job as the Director of Operations for Johnson & Wales University Denver campus in 2009. With extra time on his hands and a desire to teach his three children sustainable farming techniques, JD read an article in the local newspaper about a low income neighborhood in the middle of Denver where people had very limited access to fresh fruits and vegetables –
a right JD believes everyone should have.
...oooOooo...
...oooOooo...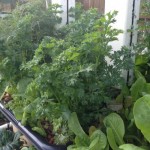 Sahib Aquaponics Zero Lot Hybrid Aquaponics System – A Good Fit For Small Spaces
Project News
Apr 212012
supreme-growth-zero-lot
Sahib Aquaponics Zero Lot Hybrid Aquaponics System was recently highlighted as being "A Good Fit For Small Spaces". This was an article in Cornell University Small Farm Program Newsletter – the Urban Gardening section.
Here is an extract from the article by Molly Davis…
"A Good Fit for Small Spaces
In suburban Orlando, Florida, farmer Sahib Punjabi has developed several models of miniature
re-circulating farms to fit in small, underused spaces
...oooOooo...
Aquaponics Debut on Earth Day
In celebration of Earth Day, we debuted our mobile aquaponics system at ECOmmunity in Costa Mesa on Saturday. Hosted by The Camp, the afternoon event featured a handful of vendors and community organizations, live music, hands-on projects like canning and succulent arrangements, kids crafts, and the Ecofficiency.Org mobile aquaponics system.
...oooOooo...
There we go, I sure hope there is enough for this issue to whet your whistle...See you real soon
O Z Z I E